In the TREMEC Customer Spotlight series, this is probably the most unique vehicle to date – and the first from American Motors Company. Let's face it: who builds a 1975 AMC Gremlin? But in the hands of young builder, Jacob Griffin, the plain and ordinary became unique and stunning.
The highly modified Gremlin, fittingly named "Mogwai," didn't get this way eating after midnight. It was the work of Jacob at Griffin Design, his family's shop in Valley Center, California. The TREMEC-equipped roadster was one of the most talked about vehicles at the 2019 SEMA Show. And Mogwai earned Jacob a Top 40 pick in the SEMA Battle of the Builders and a place in the top 10 in the Young Guns competition.
We spoke with Jacob about his creation and goals for enjoying its TREMEC TKO 5-speed.
1. When did you get this car?
We bought the Gremlin at the beginning of 2019 to build as a project car for the SEMA Show and the Battle of the Builders Young Guns competition. To me, it was one of the ugliest vehicles ever built, and I wanted to challenge myself to make it into a cool Hot Wheels-style roadster.
2. Where did you buy your TREMEC transmission?
We got the TKO 5-speed from Silver Sport Transmissions. SST was really helpful in getting us set up with everything we needed for the project to replace the Gremlin's original automatic with a TREMEC transmission.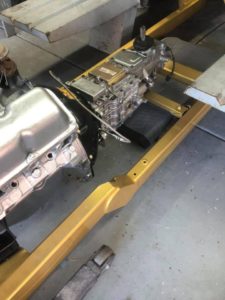 3. Why did you choose a TREMEC transmission?
One of our goals is to drive Mogwai on the 2020 Hot Rod Power Tour. I didn't want just any manual transmission, but a modern one with overdrive, smooth shifting and the ability to handle the power that the car's blown 304 AMC V-8 would make.
4. What do you like most about the TREMEC transmission you chose?
Even with the modifications to the car, the TKO 5-speed fit like a glove. It's not too big or bulky.
5. What does the TREMEC transmission allow you to do that you couldn't otherwise?
For the car I was designing, there was no way an automatic would work in terms of style and function. I wanted the car to be a real driving experience, similar to the experience of seeing Mogwai's finished form.
6. What other mods have you made to the vehicle?
It's more like what mods haven't I done to the car. The body was cut in half laterally, then lengthened. We built a custom frame to fit the modified body, with a four-link suspension system (of our own design) for the new 9-inch rear and a 1932 Ford drop solid-axle with coilover suspension for the front to give Mogwai an old-school roadster look.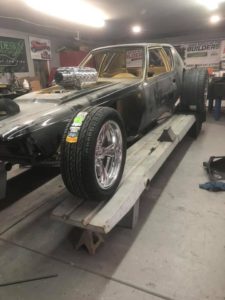 7. Tell us about the engine your TREMEC is bolted to.
Because this was going to be a different kind of build, it needed to have a different kind of engine. We chose to go with an AMC 304 V-8. We used the original block and forged crank with Carrillo rods and forged pistons. The heads are Edelbrock aluminum units with the valvetrain actuated by an Isky camshaft. On top of the 8-71 blower is a pair of Holley 600-cfm 4150 carburetors. Lyon's Mufflers custom built the exhaust headers.
8. Tell us the story of this car…single-owner, basket case, etc.
We bought the car off craigslist in early 2019. It was located in Omaha, Nebraska. Being a native to Southern California, I had never experienced a "real winter" and figured driving all the way to Nebraska in February would be the perfect chance. Little did I know we'd be picking up the car in the middle of an arctic blast. I got my fill of real winter! The car had originally been built in Iowa and spent most of its life there. Winter salt exposure had made it pretty rusty, but with the modifications I had in mind, I only needed the important parts to be solid enough for the build.
9. Is this the only TREMEC-equipped vehicle you own/have owned?
I've driven several vehicles equipped with a TREMEC transmission, but never actually owned one before.
10. What kinds of driving do you enjoy with the vehicle, such as autocrossing, cross-country drives, drag racing, track days, etc.?
I haven't been able to really drive the car yet. We've got a few more things to adjust and tune before we're ready to start doing our first shakedown drives with the car. But the plan is to long-haul the 2020 Hot Rod Power Tour and really drive it and see what Mogwai is capable of.
11.  If you could give anyone considering a TREMEC transmission advice on making their choice, what would it be?
Get it! Don't question it. A TREMEC transmission is tops when it comes to reliability, smooth shifting and being able to handle lots of torque and horsepower.