One of the coolest and most challenging events on the NMRA (National Mustang Racers Association) tour is the TREMEC Stick Shift Shootout. The most recent event was held at the 25th Annual Nitto NMRA Spring Break Shootout in Bradenton, Florida, February 28 – March 3.
To qualify, racers must compete in the QA1 True Street class, which involves completing the 25-mile road tour, then making a trio of runs. The eight quickest racers come back the following day for the Shootout's ultimate gear-jamming showdown.
Up for grabs are not only bragging rights, but the winner receives a McLeod Racing RXT Twin-Disc clutch and flywheel set valued at $1,300, while the runner-up takes home a $500 McLeod Racing product certificate.
TREMEC Stick Shift Shootout rules require, of course, a street-type manual transmission, although race modifications such as face-plating are allowed. The transmission also had to be hand shifted via a single shift handle.
A total of 33 stick racers attempted to enter this TREMEC Stick Shift Shootout. After the three qualifying passes, it was local racer Yandro Ulloa in his TREMEC Magnum-equipped 1996 "Minion" SVT Cobra taking the pole with an incredible 9.15 average.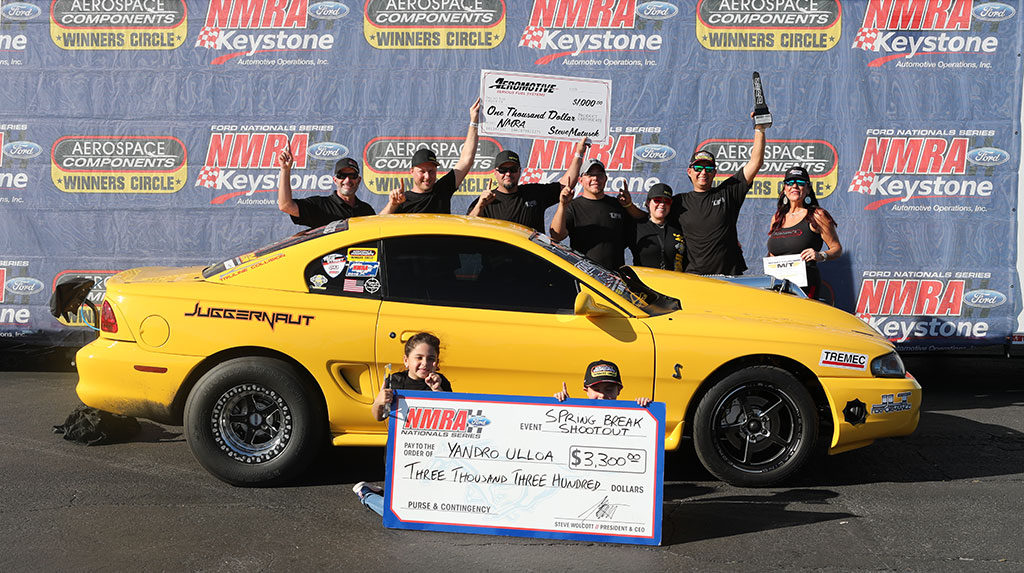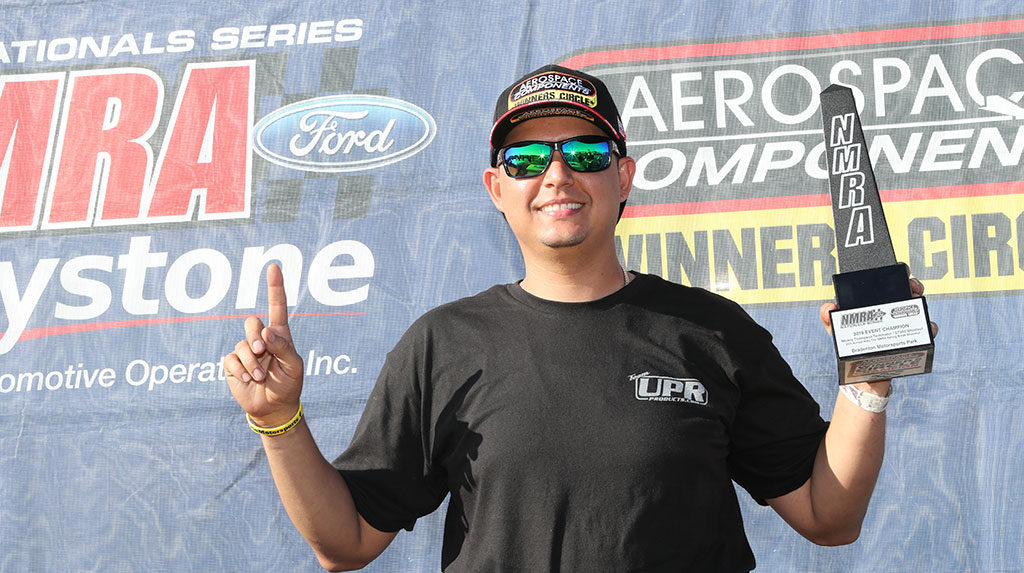 Second in qualifying was Steve Shrader of Gastonia, North Carolina, who averaged a stout 9.92 with his 1999 Mustang GT that utilized a TREMEC 6-speed Magnum. Shrader was followed by Daniel Fernandez (10.17); longtime TREMEC Stick Shift Shootout competitor Jeff Smith (10.19); James Chow (10.47); Sam Lippencott, who rowed the factory gears in his ProCharged Shelby GT350R to a 10.80; Derek Perez (11.09); and Joel Nystrom who rounded out the field with a 11.20 average.
Although Ulloa had the quickest Mustang in qualifying, the playing field was leveled on race day, thanks to a unique race format that gave each driver an equal chance at winning. This format used the driver's qualified time as a sort of Index and the slower car was given a handicap based on the difference in qualified elapse time. However, there was no breakout, so the first driver to cross the finish line was deemed the winner.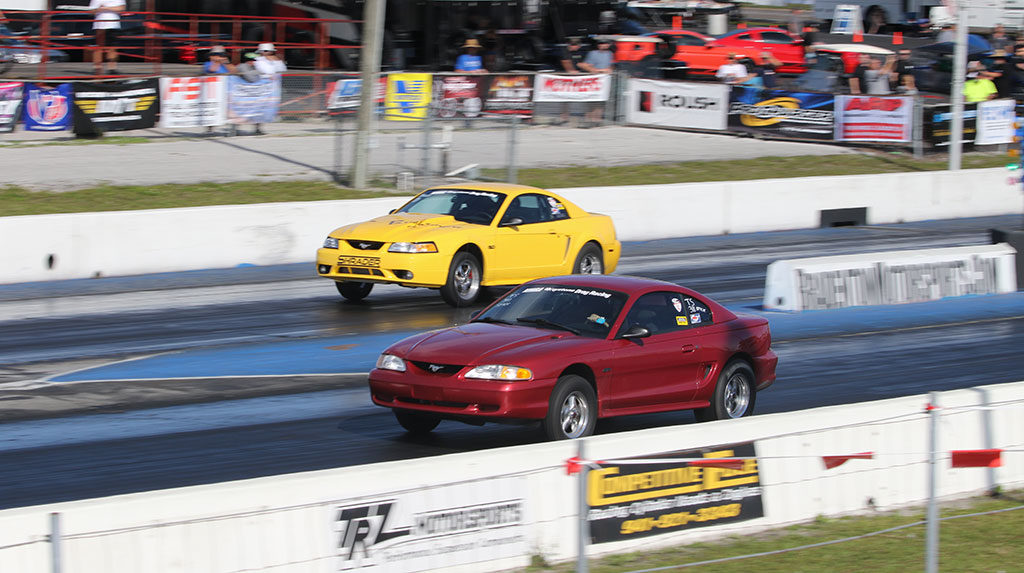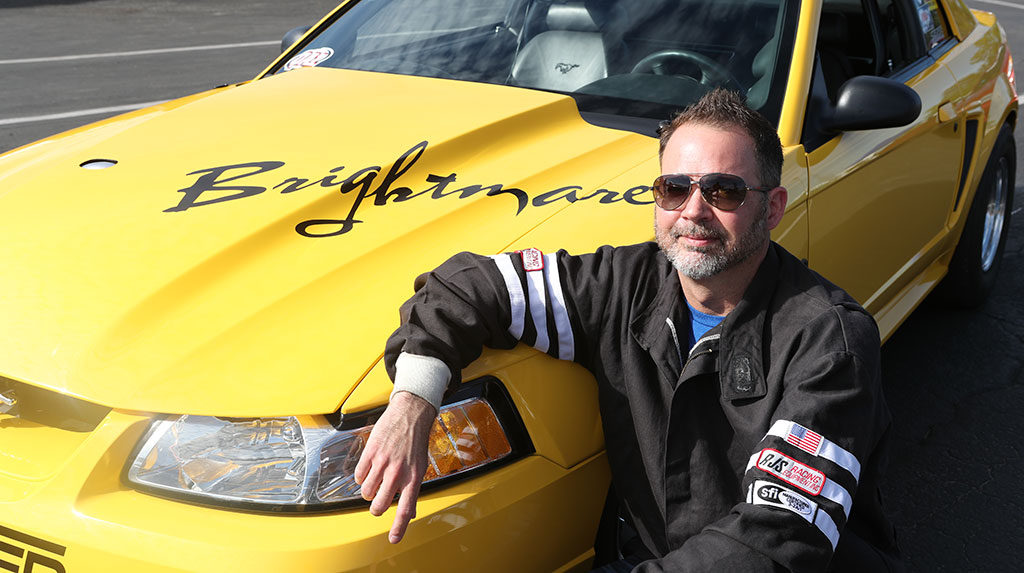 In round one, Perez used his all-motor combination and defeated Nystrom, who was packing a VMP Gen2 blower in his 2004 SVT Cobra. Shrader ran a 9.58 to best Chow's 10.35 effort, and Smith ran 9.93 to beat Andrew Kelly (who got in as an alternate). Lastly, Ulloa ripped off a blistering 8.27 at 160 to beat Lippencott who ran 10.61 at 132 mph.
In the second frame, Shrader stepped up rowing the gears in his TREMEC Magnum to a quick 9.64 at 153 mph to defeat Smith, who slowed to a 10.70. Ulloa clocked a slower 8.90, but got past Perez, who hit 11.42 at 125 mph. This set up the final match between Ulloa's Minion and Shrader's Coyote-swapped and Vortech-boosted GT.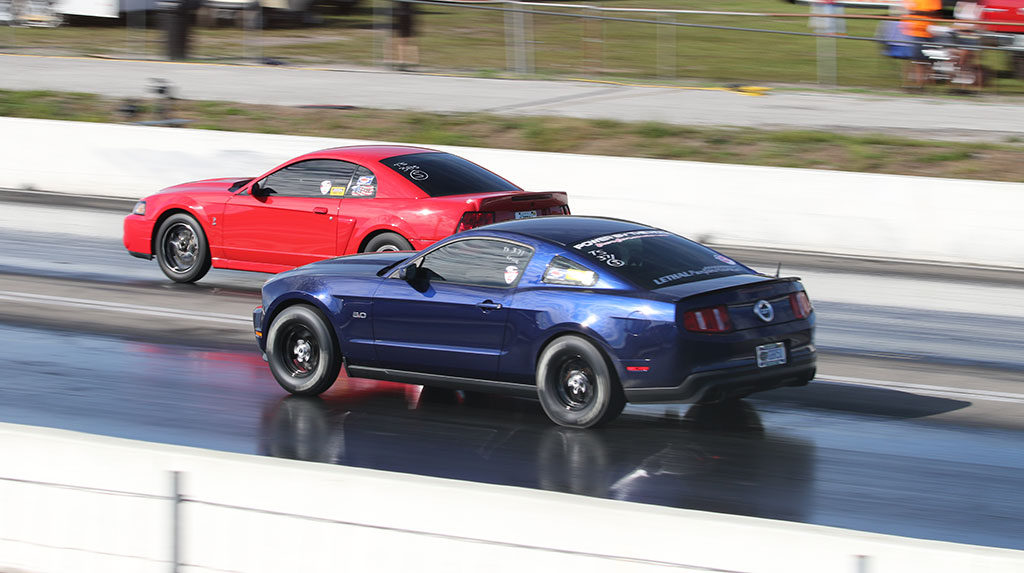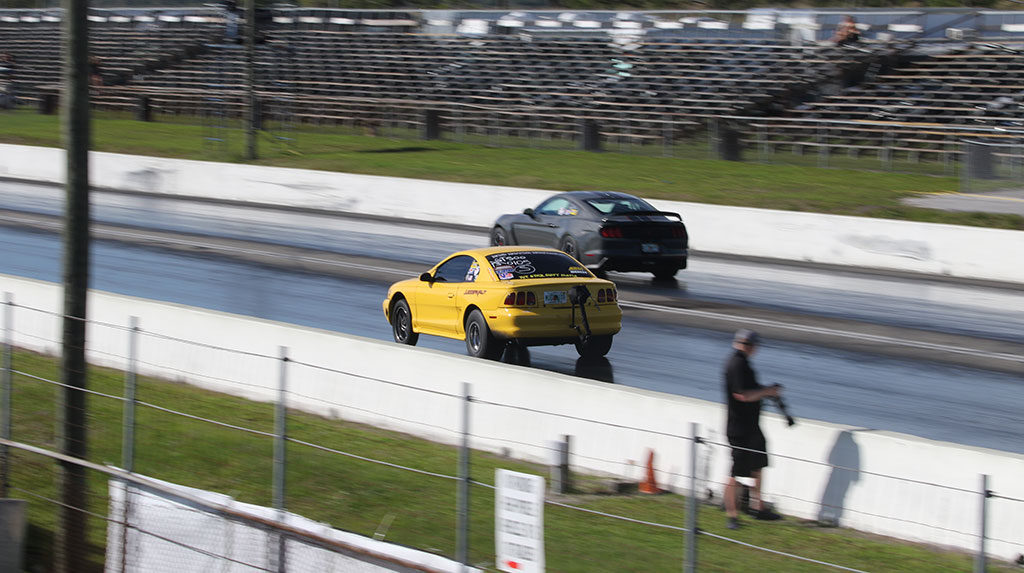 The pair of bright yellow Ford Mustangs rolled to the line, heated the tires and staged carefully. In an instant, the revs came up and the tree flashed its yellow lights, but unfortunately, Sharer let the clutch go too quickly, fouling with a redlight and handing the win to Ulloa. Despite the redlight, the pair blasted down track, with Shrader clocking a 9.80 at 153 mph and Ulloa shutting off early to a 9.05 at just 116.91 mph.
"It was amazing to win the TREMEC Stick Shift Shootout," said Ulloa. "We've been trying to win this race for two years. We had the car running well and I avoided testing right before the race because the clutch was worn out. I ran True Street and was running three classes on Sunday, so I just wanted to go 'A' to 'B' each run. During the shootout I tried to be on the light, but I had to sit on the two-step every run and I had to wait. Then it was game on and I had to go catch and pass each guy. [In the final] Shrader went after the tree and he went red.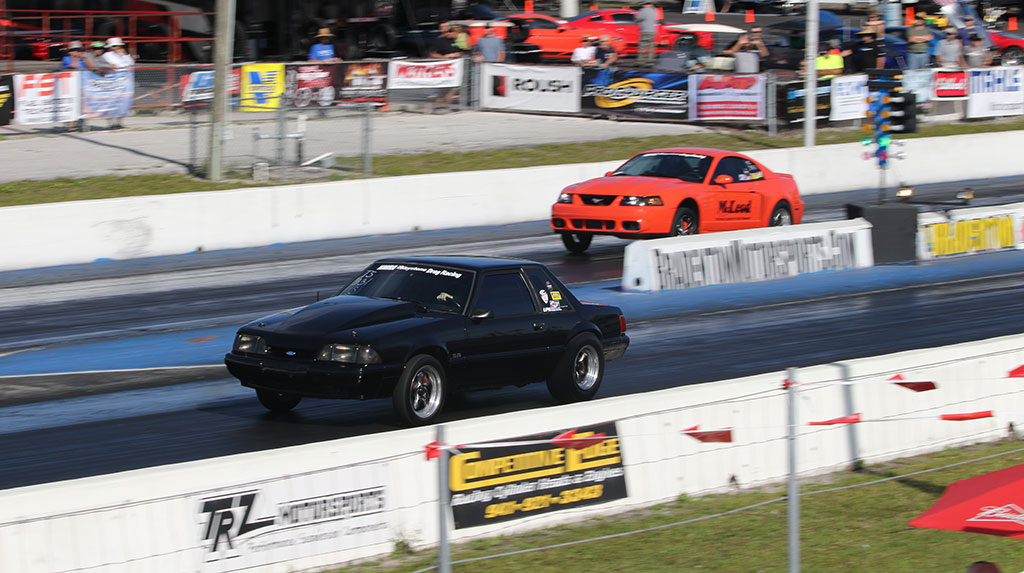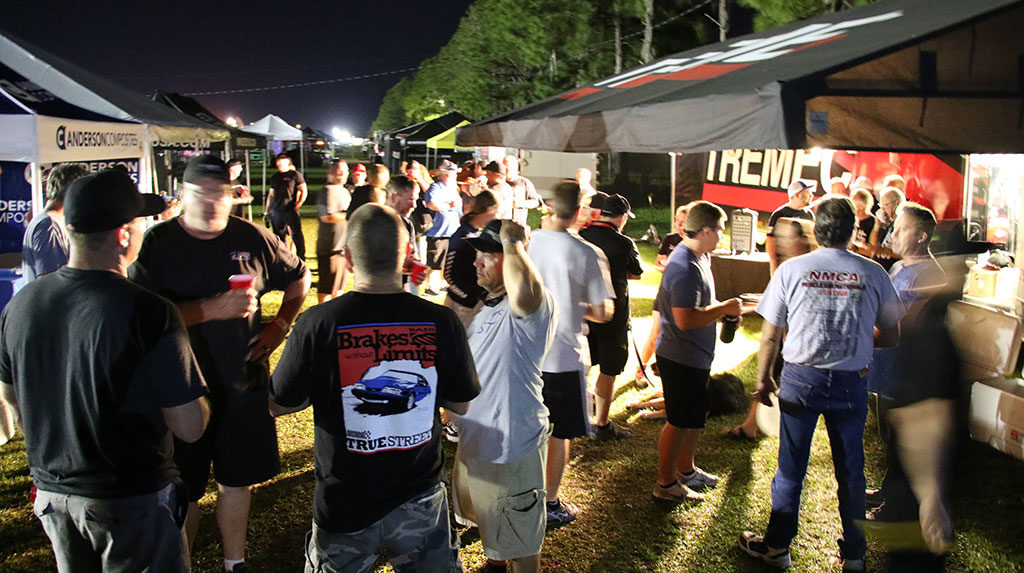 "At first I didn't see it and then I looked up and my board was lit, so I cruised through and took the win. Man, it felt great! I've been trying so hard since 2017. I spun last year and I was very happy to win since this is the class I built my car to run. It was very rewarding," he said with a smile.
Amazingly, Ulloa raced his Minion in four categories throughout the weekend, including True Street, TREMEC Stick Shift Shootout, Baer Brakes Spring Break Shootout and the Mickey Thompson Cobra/Terminator vs. GT500 Showdown. He ran as quick and fast as 8.11 and 177 mph and even drove the Cobra roughly 50 miles each way from his home to the track. He was victorious in the TREMEC Stick Shift Shootout and Cobra/Terminator vs. GT500, scored a semi-final finish in the Spring Break Shootout class and finished 7th overall in True Street!