It's that time again! Time for the Spring Edition of the 2018 TREMEC Stick Shift Shootout! As part of the Nitto 24th annual Spring Break Shootout presented by Steeda Autosports, the TREMEC Stick Shift Shootout pits the eight quickest manual-transmission-equipped cars from the QA1 True Street class in a heads up shootout for stick-shift supremacy!
"We are excited to once again partner with the NMRA to bring the TREMEC Stick Shift Shootout to the 2018 Spring Break Shootout," said Jim Averill, TREMEC Aftermarket Business Manager. "It's no surprise that some of the quickest Mustangs in True Street are TREMEC-equipped, and we enjoy giving those racers a chance to test their gear-shifting prowess against each other."
The TREMEC Stick Shift Shootout will have several new benefits for competitors in 2018.
For starters, the first 25 manual-transmission-equipped cars in line for True Street tech inspection will receive, on the spot, 100 dollars to cover their True Street entry fee for this event! That's right, a crisp C-note for the first 25 stick-shifted cars to go through NMRA Tech inspection for the True Street Class. TREMEC hopes that this will encourage more enthusiasts to compete and promote racing in the safe confines of the dragstrip rather than on the street.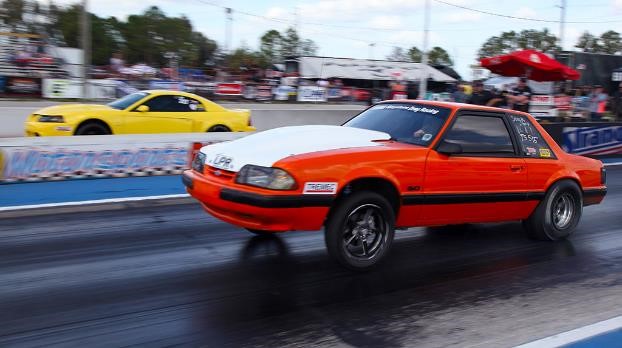 Also new this year, the eight drivers selected for the TREMEC Stick Shift Shootout will receive a custom TREMEC jacket and award plaque at the TREMEC Racer Appreciation party. This event takes place after the racing on Saturday concludes. All True Street racers will be welcome at this appreciation party held at the TREMEC display trailer on the midway. Everyone can enjoy free pizza and drinks, and have the chance to enjoy the company of fellow racers.
The following Sunday, all eight Stick Shift Shootout competitors will face off in a Chicago-style elimination bracket, pitting #1 vs 2, 3 vs 4, 5 vs 6, and 7 vs 8 to get things started. Starts will be staggered like a bracket race, using each racer's 3-run True Street E.T. average to set their dial-in. Unlike an index race, however, the Stick Shift Shootout will not employ a breakout. Competitors will let it all hang out for the chance to be recognized as the king of the stick-shift hill!
In addition to recognition, this year the winner and runner-up will take home special prizes provided by the folks at McLeod Racing! The winner will be awarded a McLeod Racing RXT Twin-Disc clutch with flywheel (approximately $1,300 value), while the runner-up will receive a $500 McLeod Racing product certificate.
"TREMEC has been a major supporter of the NMRA series for many years," said Steve Wolcott, co-founder of the NMRA series "This year's Stick Shift Shootout will have even more excitement, as TREMEC supports a larger base of manual transmission equipped competitors for the 2018 shootout."
Rules for admission into the 2018 TREMEC Stick Shift Shootout remain the same as last year. Any True Street competitor using a street-type manual transmission is eligible. Race-oriented modifications such a face-plating are allowed, but the transmission must be shifted by a single, hand-operated shift handle. No multiple lever Lenco-style transmissions are allowed, nor are any manual transmissions shifted by air, electronic or hydraulic actuation.
"We worked with TREMEC to change up the format this year, adding a little twist to the TREMEC Stick Shift Shootout that we think will be fun," said Rollie Miller, NMRA National Events Director. "TREMEC has been a great partner to help recognize some of the coolest cars in drag racing through the TREMEC Stick Shift Shootout. And their increased generosity means more enthusiasts win by just entering the Spring Break Shootout."
You can read about the action from the 2017 TREMEC Stick Shift Shootout by clicking here.