Developing innovative technologies that improve vehicle efficiency and enhance mobility is driving the American automotive industry forward. To this end, industry is partnering with government programs and universities to find powertrain solutions to reduce energy consumption and greenhouse gas emissions.
One such program is a four-year engineering competition sponsored by the U.S. Department of Energy and General Motors: the EcoCAR 3 challenge. As part of the Advanced Vehicle Technology Competition, EcoCAR 3 was launched in 2014
Sixteen universities are challenged to redesign a Chevrolet Camaro by demonstrating emerging automotive technologies, while still maintaining the performance expected from this iconic muscle car. The vehicles are evaluated in a wide range of dynamic and static events.
"EcoCAR3 is a great program that fosters future generations of automotive engineers and business people, encouraging them to become true innovators," said Mark Reuss, GM executive vice president, Global Product Development, Purchasing and Supply Chain. "This year's winners – and all the teams – are proof of that. It's a competition that GM is proud to support."
Why a Camaro and not some sort of small economy car? Greg Jankord, a member of the Ohio State University EcoCAR 3 team explains, "The goal of the competition is to build the best hybrid vehicle. Best being defined not only by emissions or efficiency, but also by vehicle costs and consumer appeal. Basically, everything that OEMs do in developing vehicles that will sell, teams have to do as well."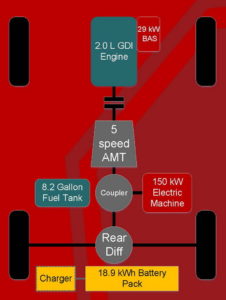 The OSU team developed a performance plug-in hybrid electrical vehicle (PHEV) by replacing the entire powertrain with an 18.9 kWh battery pack, P0 and P3 electric machines, a 2.0L, 4-cylinder engine, and an automated manual transmission (AMT) connecting the front powertrain (FPT) and rear powertrain (RPT).
The AMT is a modified TREMEC T-5 five-speed manual transmission, with an automated shifting and clutching subassembly. The shifting subassembly consists of two electric motors that control the X and Y motion of the shifter. The clutching subassembly consists of a CAN controlled master and slave cylinder.
The OSU team is made up of about 40 students, from freshmen all the way up to PhD students. The students come from a wide array of majors, from mechanical and electrical engineering to business and public relations studies. This variety helps augment the team's capabilities and creative thinking with a diverse pool of educational and creative viewpoints.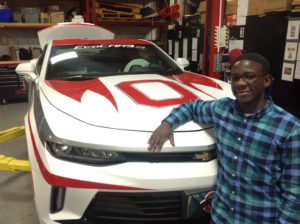 "The main goal for our team is to develop a showroom-ready hybrid-electric Camaro that meets or exceed the technical requirements provided by sponsors," explains Brianna Antinorro, co-communications manager. "Each year, we get new students on the team who are excited and ready to work on the Camaro and gain experience with cutting-edge technology. And, even though we do have some turnover each year due to students graduating, the knowledge transfer base that we've established lets us start out each year strong."
The unique nature of a PHEV with multiple torque producing components allows engineers to overcome the traditional deficiencies related to AMT's. These deficiencies include launch control, torque holes during shifting, and re-engagement of the engine after a shift, all of which traditionally have kept AMT's from large market penetration in the US due to negative effects on drive quality.
"Automating a manual transmission provides several benefits over a conventional automatic transmission found in most vehicles today," explains Greg Jankard, one of the team members dedicated to working on the transmission.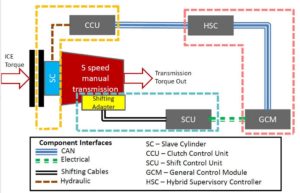 "First, conventional automatics have parasitic losses associated with the torque converter and the shifting system that reduce their efficiency compared to manual transmissions. Second, manual transmissions are significantly lighter than conventional automatic transmissions and much smaller – meaning that they are easier to package in a vehicle. Both factors result in a more efficient transmission that translates to greater fuel economy for the consumer.
"Finally, the traditional drawbacks associated with automated manual transmissions are drive quality related; however, many of these drawbacks are overcome or minimized because of the power split nature of hybrid vehicles."
The solution for the manual transmission to fit the OSU EcoCAR project's needs was the venerable TREMEC T-5 five-speed transmission. The transmission and conversion parts were supplied by TREMEC distributor Modern Driveline.
"The T-5 is smaller and easier to package in the Camaro, it is lightweight and efficient, meaning improved fuel economy," explained Jankard. "Finally, the T-5 has been a workhorse of manual transmissions for 30 years, since before some of our team members were even born! It is very reliable and can always be counted on."
Integrating the TREMEC T-5 into the OSU EcoCAR Camaro was handled by Aditya Modak (System Modeling and Simulation Lead Engineer), Simon Trask (Safety Systems Manager), and Greg Jankord (Controls System Lead Engineer). Together they worked on taking the T-5 and modifying it to become an automatically shifted manual unit.
The conversion/development was not without its hurdles, as Jankord explains.
"The most difficult hurdle that we have faced automating the manual T-5 is in development of the shifting subassembly. This is the portion of the system that physically shifts from one gear to another. Shifting in a manual transmission is something that is very nonlinear in nature due to the design of the system"
"For example, inside a manual transmission is a detent plate designed to help drivers get into gear. This detent plate means that the force on the shifting lever is nonlinear, which is harder to design controls to automate. Other factors make the shifting process nonlinear as well, such as the synchronization phase gear engagement."
The shifting subassembly has undergone several redesigns as the team learned more about the system. They had to replace the electric motors with improved units as gear teeth wore, and redesign the controls to improve the system and deal with nonlinearities in the system.
While all the 16 teams are building hybrid Camaro's, there are several different vehicle architectures within the competition, resulting in a varied and unique field of entries. Each team developed a different design which comes with certain benefits and drawbacks, and each team is trying to maximize their benefits while minimizing their drawbacks.
For example, Virginia Tech put a bigger engine (going from a stock V6 to a V8) into their vehicle as well as electric motors. This gives them unquestionably more power than OSU's architecture, but comes with potential drawbacks in efficiency if they are not able to implement certain fuel saving features such as cylinder deactivation.
The University of Washington is going for a pure series vehicle – meaning that they have an engine which produces electricity for two electric motors in the rear of the vehicle that drive each of the wheels.
The ultimate goal of the program is to develop systems for taking hybrids to the next step and make them viable for regular production vehicles. With an eye toward the future and more widespread production of hybrid vehicles on various levels, the OSU team developed its Camaro accordingly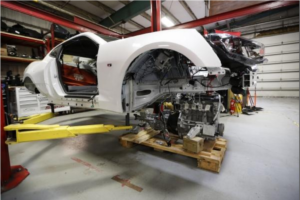 With the final year of competition now upon them, Jankord and the team are busy working on further refinements and improvements. "We have spent a significant amount of time redesigning the transmission, giving it more aggressive gear ratios, improving the shifting subassembly, as well as tweaking our engine and rear electric machine. All of this will lead to a faster vehicle that is more fuel efficient and reliable."
The Ohio State University team has topped the EcoCAR 3 competition for the past three years and is looking to defend its championship again in the final 2018 competition with its impressive 350 horsepower – yet eco-friendly – Camaro.
"Ohio State fully integrated their vehicle with impressive attention to details, and they managed to maintain the legacy of the Camaro while moving it into the future," said Kristen Wahl, director of the Advanced Vehicle Technology Competition at Argonne National Laboratory. "Innovative thinking and tireless devotion clearly contributed to the team's success."
About EcoCAR 3
EcoCAR 3 is a four-year collegiate engineering program that builds on the successful 26-year history of Department of Energy advanced vehicle technology competitions (AVTC) by giving engineering students the chance to design and build advanced vehicles that demonstrate leading-edge, eco-friendly automotive technologies.
General Motors provides each of the 16 competing teams with a Chevrolet Camaro, as well as vehicle components, seed money, technical mentoring and operational support.
The U.S. Department of Energy and its research and development facility, Argonne National Laboratory, provide competition management, team evaluation and logistical support.
Through this important public/private partnership, EcoCAR 3 provides invaluable experience and training to promising young minds entering the North American job market.