The first of three 2021 TREMEC Stick Shift Shootout events took place March 4-7, 2021, at Bradenton Motorsports Park in Bradenton, Florida, at the NMRA Spring Break Shootout. It was spectacular manual-transmission drag racing action as the street-legal Ford racers battled to secure a Top 8 spot in the Shootout and then gun for the championship.
Considered the ultimate event for street-legal manual-transmission cars, the TREMEC Stick Shift Shootout gives racers the chance to shine in an all-out drag racing eliminator with amazing prizes and bragging rights.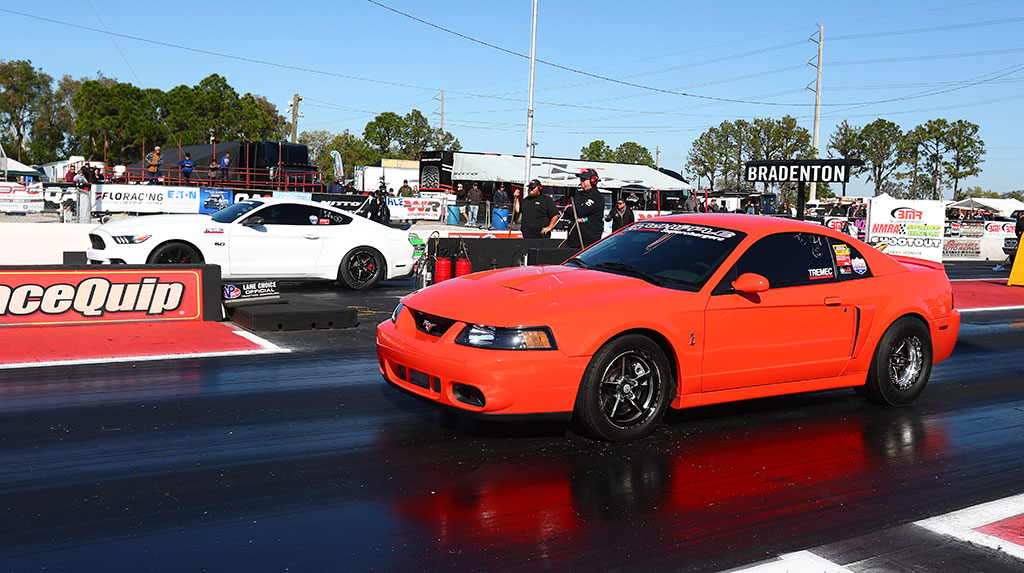 Each TREMEC Stick Shift Shootout begins with competitors first running in True Street, which requires a 30-mile drive and three back-to-back runs to set an average elapsed time (e.t.). The quickest eight manual-transmission cars then qualify to compete in the Shootout.
Each of the Top 8 qualifiers receives a custom TREMEC award, and the top prizes are a McLeod Racing RXT twin-disc clutch with flywheel worth approximately $1,300 for the winner and a $500 McLeod Racing product certificate for the runner-up.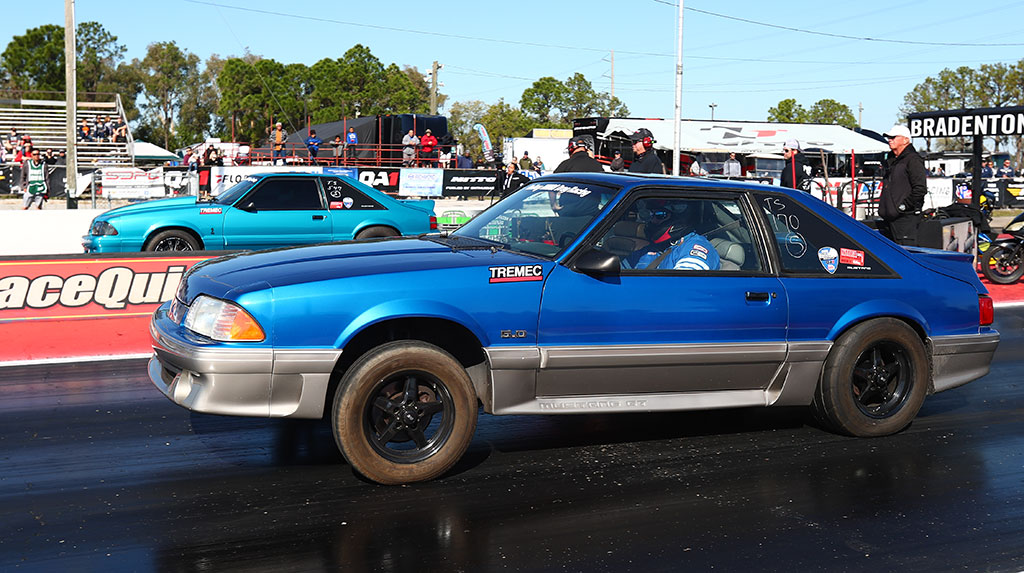 The TREMEC Stick Shift Shootout is designed for real street cars. Rules allow for street-type manual transmissions. Shifts must be made by a hand-operated, single-shift handle. For the first round of eliminations, drivers are randomly paired and compete with a staggered start based on their True Street average. Good driving and a fast car are important, because there's no breakout at the finish line.
And after a long night of qualifying, Jeff Smith rowed the gears in his TREMEC Magnum-equipped 2004 SVT Cobra to the top spot with a 10.04-second average. His Cobra was consistently a strong runner, but there were seven hungry racers chomping at his heels.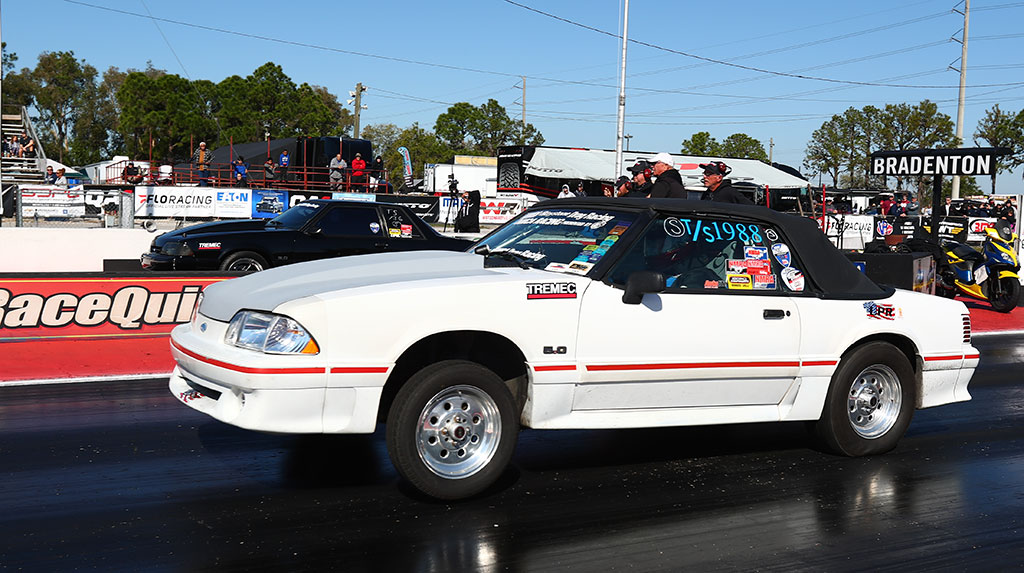 Go-time came Sunday morning with cool temperatures and a sticky track. Top qualifier Smith was up first, taking on Brian Biegert and his 2017 GT. Biegert grabbed a holeshot and never looked back, taking a win with an 11.53 at 119 mph. Next up was David Leshay in his popular 1963 427-powered Galaxie taking on the Rob Thompson who qualified with a quicker e.t. in his TREMEC T-56-equipped 2001 Mustang GT. Leshay dropped the clutch on his big beast and the Galaxie launched hard. Thompson was late on the Tree and Leshay, despite qualifying 8th, was able to score the win.
Jonathan Whitaker's 1993 Cobra then faced Chris Segura's 1990 Mustang GT. Both racers were close on the Tree, but Segura had issues and Whitaker drove his Cobra to an 11.29 at 123 mph for the win. His SVT machine is powered by a Gen II Coyote backed by a TREMEC T-56.
The last race of Round 1 saw Tyler Thornburg in his 1988 Mustang GT convertible taking on TREMEC Stick Shift Shootout regular Andrew Kelly in his Mustang GT. This was the closest match of the round, with Thornburg nailing a .010-second advantage on the Tree and then running 11.18 to hold off Kelly to move to the semi-finals.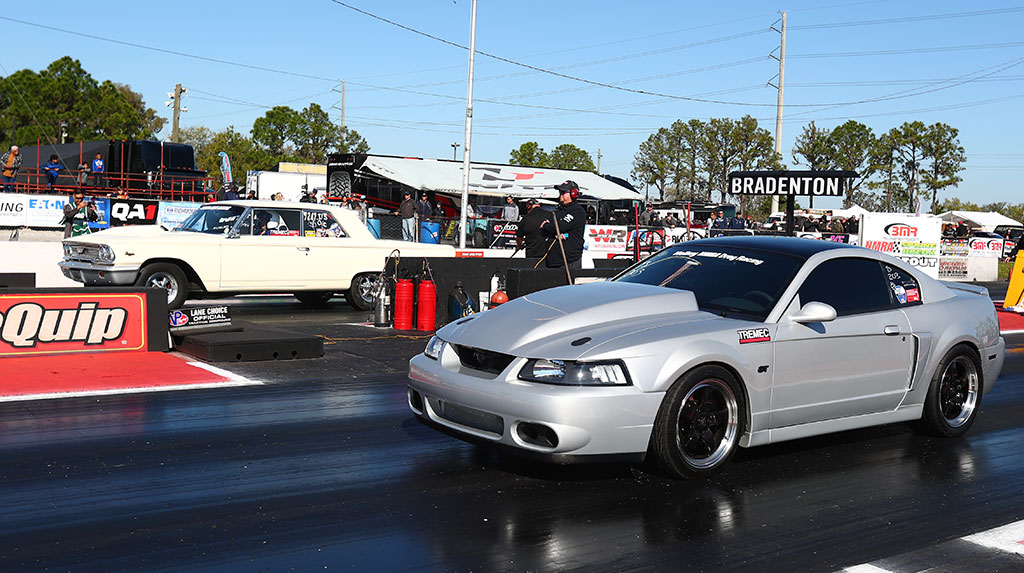 In Round 2, Leshay defeated Biegert with a strong 11.83 at 114 mph. Meanwhile, Thornburg, who qualified 4th in the Shootout, ran 11.09 at 126 mph to take down Whitaker's 11.68 at 124 mph. This created a final round between two first-time TREMEC Stick Shift Shootout competitors, and they came from the 4th and 8th qualifying positions.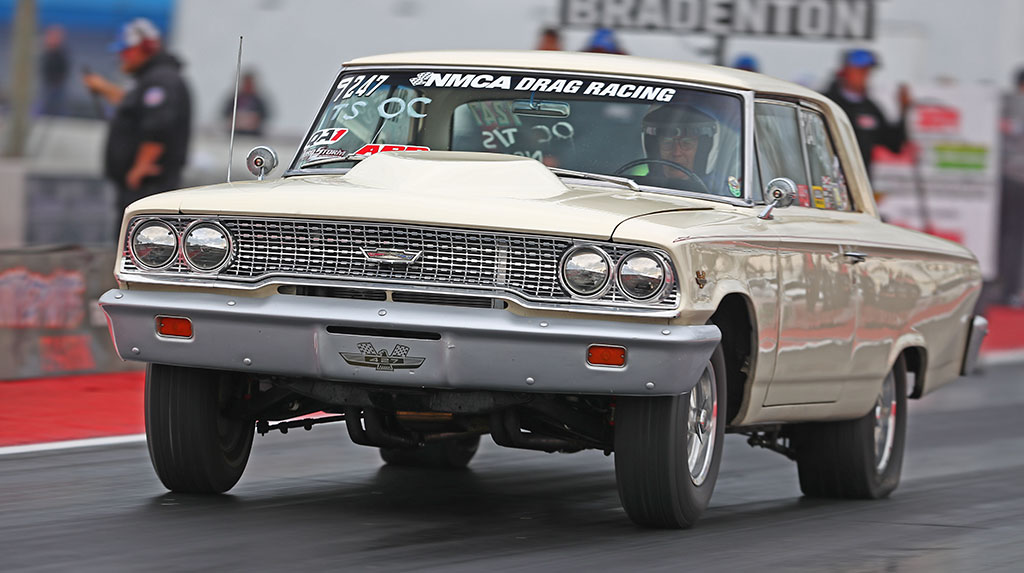 The championship round was packed with excitement. Thornburg purged the nitrous on his 347 stroker that's backed by a Centerforce clutch and TREMEC transmission. In the other lane, Leshay did a solid Second gear burnout followed by a short dry hop. Each racer inched to the line, staged carefully and cranked up the revs. Then the lights moved down the Tree; the big Galaxie moved hard, kicking the tail as the driver rammed the H-pattern 4-speed though the gears. Thornburg was .017 behind on the launch, but he let the GT fly with the stroked small-block gulping down the nitrous.
Thornburg made three clean gear exchanges and ran 11.31 at 124 mph, but it wasn't enough to hold off the Galaxie, which produced a solid 11.97 at 115 mph.
"I can't explain how exciting this was," said Leshay. "I can't get over it. This is my first time running the TREMEC Stick Shift Shootout and I really just wanted to make the show. I've owned this car for three years and I've gone through every nut and bolt. I raced in the 1960s and 1970s and had three friends with Galaxies, and I always wanted one."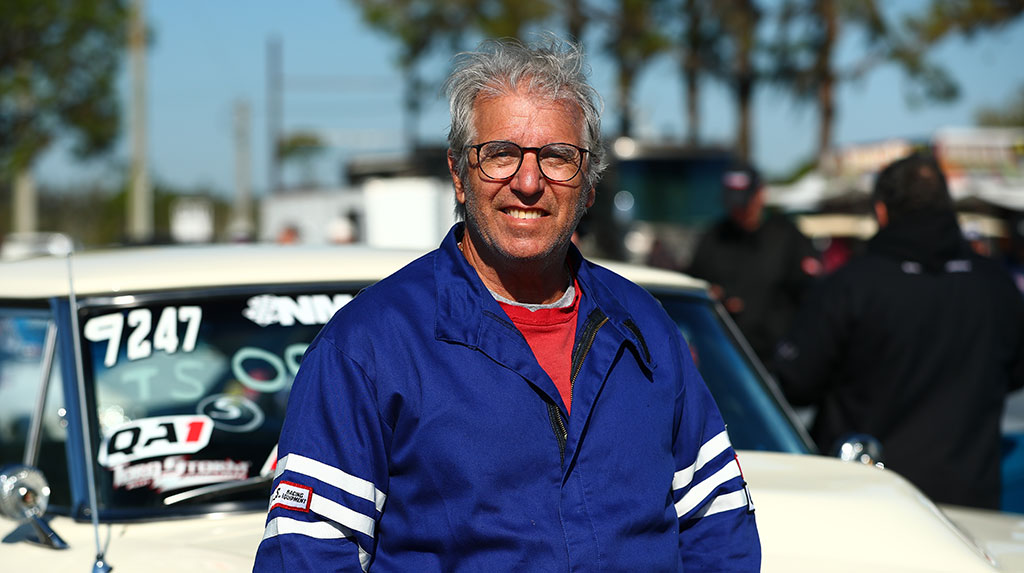 Despite not racing for decades, Leshay said racing is in his blood. The 1963 427 Galaxie is not your typical NMRA True Street entry, either. It stands out among the Fox-body and newer Mustangs. The Galaxie was a fan favorite in Bradenton; spectators ran to the fence each time Leshay rolled to the line. Every clutch drop was a sight to see, and the big Ford ran in the high 11s and low 12s while Leshay competed in True Street, TREMEC Stick Shift Shootout and Open Comp!
Do you have a fast stick-shift Ford? The next TREMEC Stick Shift Shootout for gear-banging enthusiasts is June 10-13, 2021, at Summit Motorsports Park in Norwalk, Ohio. And the final TREMEC Stick Shift Shootout goes down during the NMRA All-Ford World Finals and Holley Intergalactic Ford Festival September 30-October 3, 2021, at Beech Bend Raceway Park in Bowling Green, Kentucky.