Our latest TREMEC Customer Spotlight focuses on two friends who built FFR roadsters at about the same time.
Joe Camire worked at Factory Five for several years, and being part of the crew creating the roadster kits he eventually wanted one of his own to build.
Sharing a passion for driving with Joe is his friend Greg Sandels who purchased a FFR kit in 2004, two years before Joe bought an started his own build. Both men built their cars at home, investing sweat equity while enjoying the hands-on process of building a vehicle from scratch.
When Carroll Shelby created his Cobra from the British AC roadster, it was a prolific combination of British design and American automotive enthusiasm. It would give rise to many imitators, some short lived and others who put their own spin on the concept to offer something unique that driving enthusiasts could enjoy.
In 1995 Factory Five Racing (FFR) came on the scene with a new twist on the classic roadster, where enthusiasts could build their own Cobra-like two-seater in a home garage using stock parts from Fox Body Mustangs.
These new roadsters proved to be the perfect receptacles for TREMEC transmissions so drivers could squeeze every corner-carving, gear-shifting drop of driving pleasure from the vehicle.
When did you first get your TREMEC equipped car/truck?
Greg: I purchased my build kit in 2004. It was an off-and-on build across 16 years as money and time allowed progress to be made. I had to take a break after getting laid off twice from work, but once the finances allowed I was able to get back on the project and finish it. It was well worth all the patience, time and money when I was finally able to fire it up and drive it for the first time in 2020.
Joe – I bought my build kit in 2006 and had it running within about 18 months. I drove it in "raw" form for a bit then got it painted about six months later. A donor Mustang wasn't used for everything, but I did get some salvage parts for the build. The rear end, front spindles, and engine were take-outs but rebuilt. Everything else I got was brand new including the transmission.
2. Where did you buy your TREMEC transmission?
Greg: We got our TKO 5-speeds from Fortes Parts Connection along with the bellhousings and clutch systems. Mike Forte was a great help in advising us which transmission to go with and what gear ratios would give us the best driving experience.
3. Why did you choose a TREMEC transmission?
Greg – Durability and the true fifth gear overdrive. Whether it's for a relaxing cruise or when I want to drop the hammer and enjoy the back-country Georgia roads, I know the TKO 5-speed will handle any kind of driving I throw at it. And the overdrive means long-distance cruising is no problem.
Joe – The TKO is the best value when it comes to buying a new, modern manual transmission that has great capability and versatility. From the first through fourth gear ratios that can work with a multitude of different engine setups, to the fifth gear overdrive that makes highway and long-distance cruising realistic. I used to work for Factory Five and I would recommend the TREMEC TKO for people who wanted the mid-shaft option, which is what I chose for my car.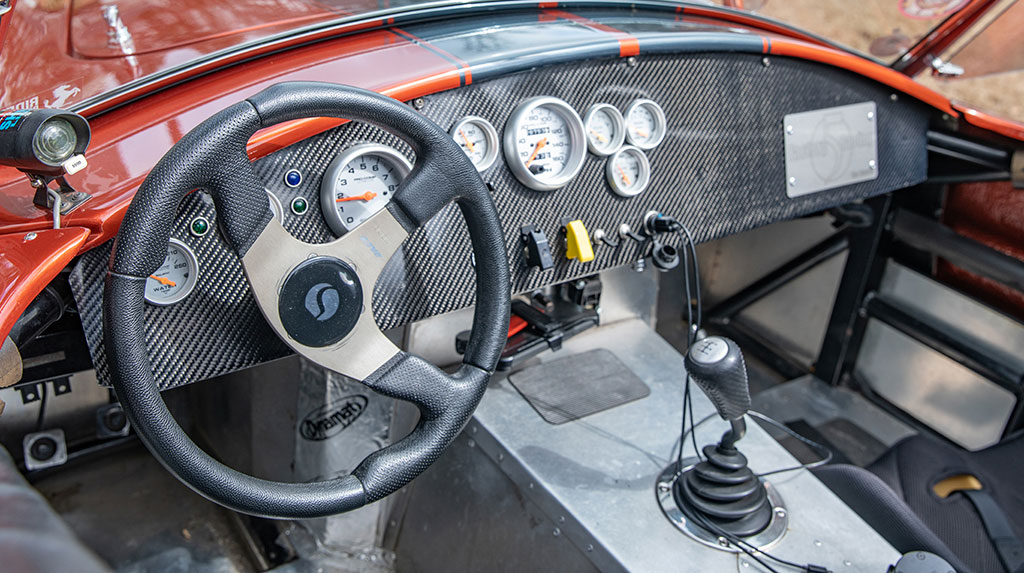 4. What do you like most about the TREMEC transmission you chose?
Greg – The gear ratios are perfect for the engine and how I have the car set up. The shifter location of the TKO allows for perfect fitment in the roadster and location of the shifter relative to the driver.
Joe – Durability is the first thing. Being able to handle up to 500 lb-ft of torque means the TKO is ready for anything, and it can endure high-rpm shifting when it's time to really enjoy the roadster's driving capability.
5. What does the TREMEC transmission allow you to do that you couldn't before?
Greg – The mild overdrive ratio means the roadster can still pull hard even when it's in 5th gear.
Joe – LOL, drive my car! Jokes aside, the TKO allows me to do a variety of things with my roadster. Whatever my mood or desire is, the TREMEC will easily allow me to drive the car how I want to.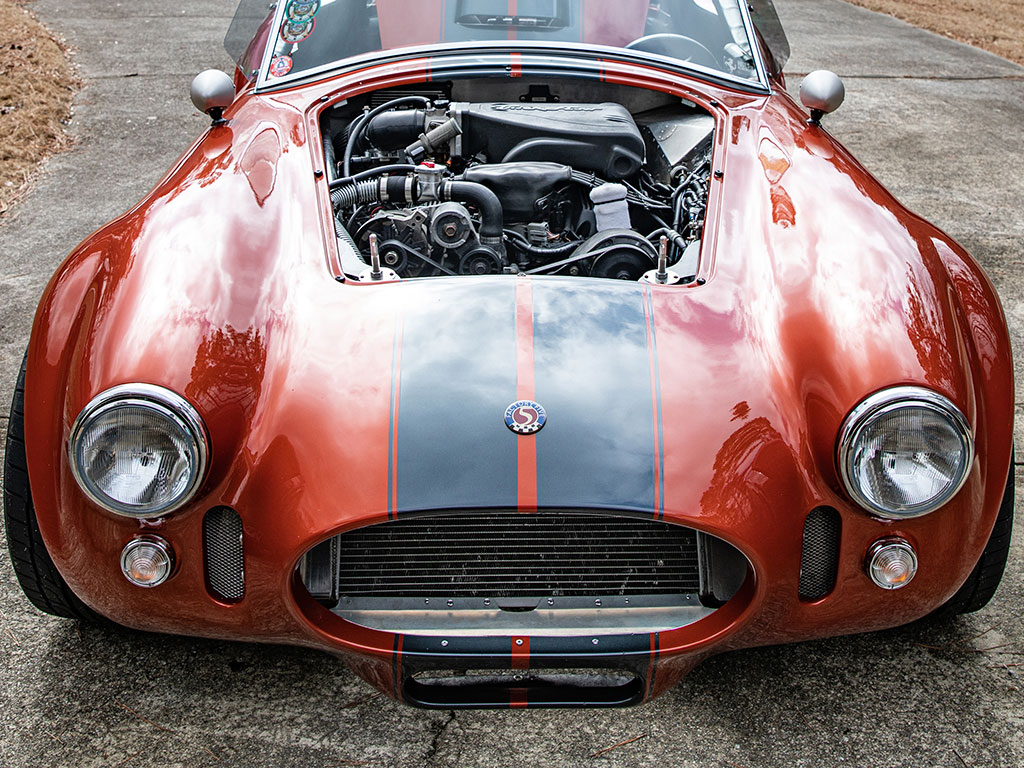 6. What other modifications have you made to the vehicle?
Greg – Too many to list. It was a build from scratch with no donor car that took 16 years to pretty much complete. Most of the suspension came from Gordon Levy, brakes from Brembo (four-piston brakes at all four corners), the wheels are BBS units off a Panoz Esperante and tires are Nitto NT555 gen 2s.
Joe – mine was also a ground-up build with no donor car, with only a few pieces salvaged from Fox-Body Mustangs.
7. Tell us about the engine your TREMEC is bolted to?
Greg – A built 5.0L that makes about 350 horsepower, stacked EFI, aluminum big valve heads and Ford Racing F cam that gives the motor a good rumble but is mild-mannered enough to not give the EFI issues and be easy to drive.
Joe – Mildly modified Ford 302 that came from a Mustang I rebuilt to makes about 350 horsepower. I kept the factory iron heads because they worked just fine for this setup.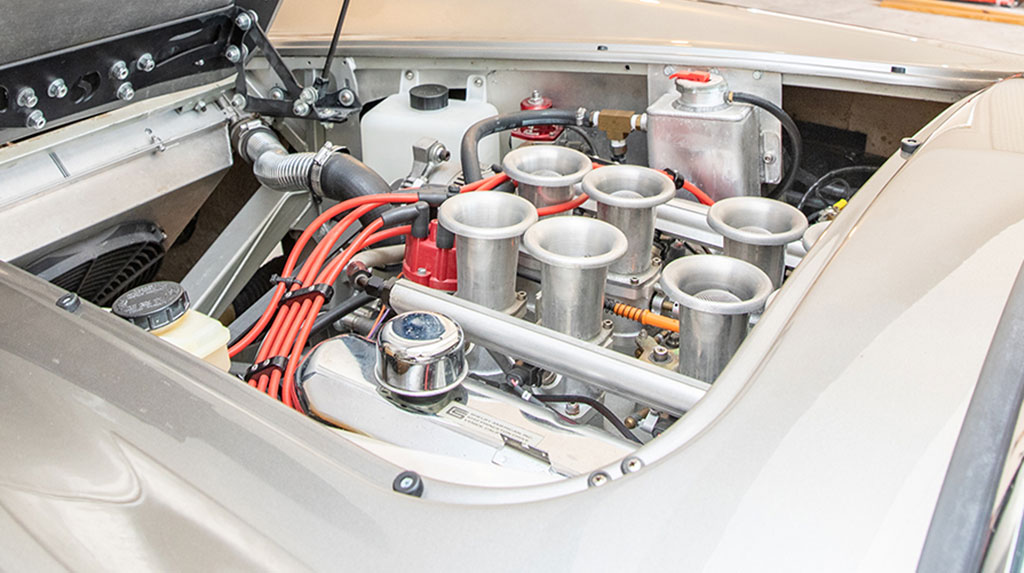 8. Is this the only TREMEC equipped vehicle you own/owned, currently, and in the past?
Greg – I also own a 2008 Shelby Mustang GT500 with the TR-6060 6-speed.
Joe – Not currently but in the past I've owned various Mustangs that came from the factory with TREMEC transmissions.
9. What kinds of driving do you enjoy with the vehicle, such as autocrossing, cross-country drives, drag racing, track days, etc.?
Greg – Cruise, autocross, track days are in the future after I get a few paint chips in the new finish and can relax about taking it on the track and possibly getting some scuffs, dings and nicks in the paint.
Joe – Pretty much the same as Greg whenever possible! We'll probably end up playing follow-the-leader a bit on the back roads to have some fun together too.
10. If you could give anyone considering a TREMEC transmission advice on making their choice, what would it be?
Greg – Dependability, customer service, just do it! You won't regret going with a TREMEC for one second.
Joe – Get one – it's what you need!