When installing a TREMEC Magnum 6-speed into a classic car or truck, one of the things that you need to do is make a few electrical connections. One of our Elite Distributors, Bowler Performance Transmission, recently introduce an All-in-One Magnum 6-speed control harness, which makes this even easier.
"We designed and developed the All-in-One harness to help simplify the installation process for the TREMEC Magnum 6-speed," explained Bowler Performance's Craig Meyer. "Previously, in order to get all the functions to work correctly when installing a Magnum, you would need to purchase multiple components – such as pigtail connectors for the reverse lockout, VSS and reverse light switch – then you would need a reverse lock-out controller to correctly activate the lockout solenoid via a speed signal versus just applying a momentary 12-volt input, such as the brake light switch. Also, if you needed a different pulse count output for your speedometer or ECM, you would need some type of interface that could reproduce the speed signal pulse count in the correct output your components were looking for. All of this created a lot of extra wiring and parts sourcing to make it work."
With the increase in options for electronic vehicle controls, including aftermarket GPS-equipped speedometers and Bluetooth technology being more readily available, it was time for a new solution. Bowler Performance's new Magnum 6-speed All in One harness uses a single control box that manages all transmission functions and includes Bluetooth capability and phone/tablet interface. The control unit is epoxy-sealed and designed to withstand the elements and abuse of being mounted on the underside of a vehicle.
"We knew there had to be a way to incorporate all those items into one device to help simplify the process. That's how the All-in-One was born. With the ability to condense all the controls into one small package, that was also weatherproof, we could ease the burden of connecting the Magnum to the vehicle's components," said Craig. "I think that's what really sets this product apart, the pure simplicity of it all, plus the ability to have the two independent VSS outputs, which can be great for those who are connecting an electronic speedometer and cruise control module that both want to see different pulse counts. The icing on the cake is the Bluetooth connectivity. Once you have everything installed, you can sit back and make changes from the convenience of your phone or tablet."
There is no need to install terminals or to do any other complicated electrical work. Everything is controlled through two switched 12-volt circuits and a single ground wire connected to the negative battery post or engine block. The reverse lockout solenoid is determined by a user-defined speed setting.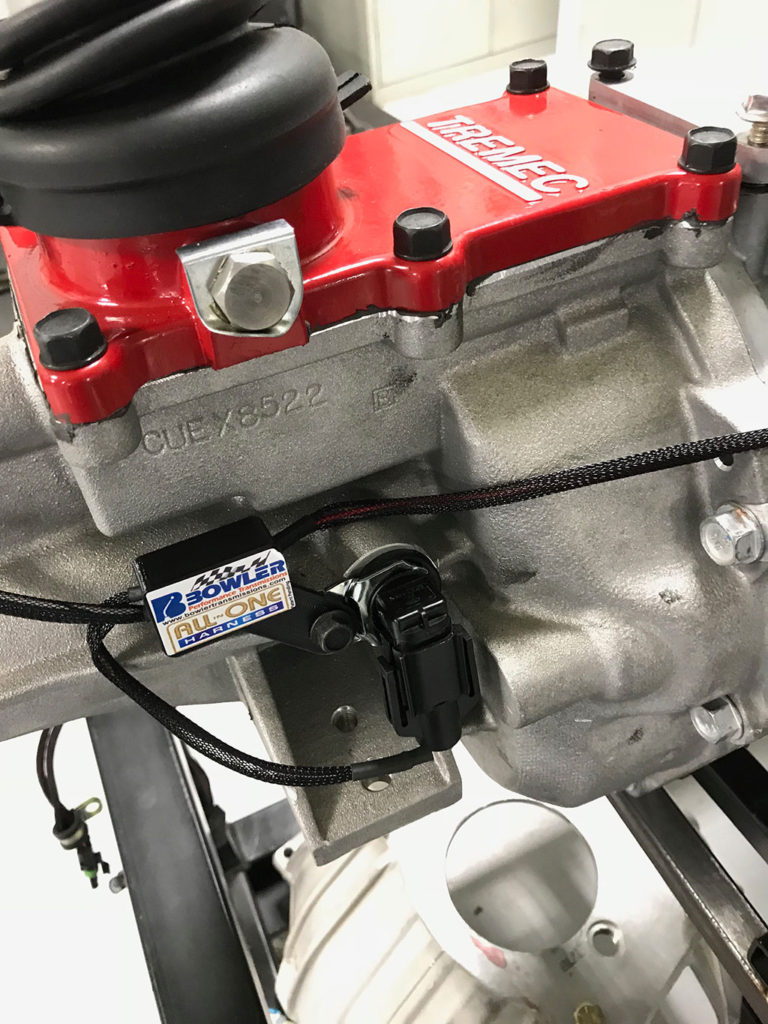 For speedo function, the new harness has two speed-sensor outputs. Both generate a square wave signal from about -5v to roughly +5v, with the frequency varying as the speed changes. The output will automatically shift to a positive only output if the ECM needs it, with a range of 0 to +10 volts. The two speed-sensor outputs can be calibrated separately with any pulse count and ratio desired. The two outputs are capable of driving just about any common speedometer, cruise control or ECM, regardless of brand.