Story and Photos by Evan J Smith
Ever-humble Bob Myers has been a staple on the stick-shift street-car scene. He regularly competes in events like NMRA's QA1 True Street, local bracket racing and 6.50 index. But unlike most racers who rely on a big V8 for power, Bob has stayed true to a beloved 2.3-liter Ford four-cylinder that motivates his 1984 Mercury Capri RS.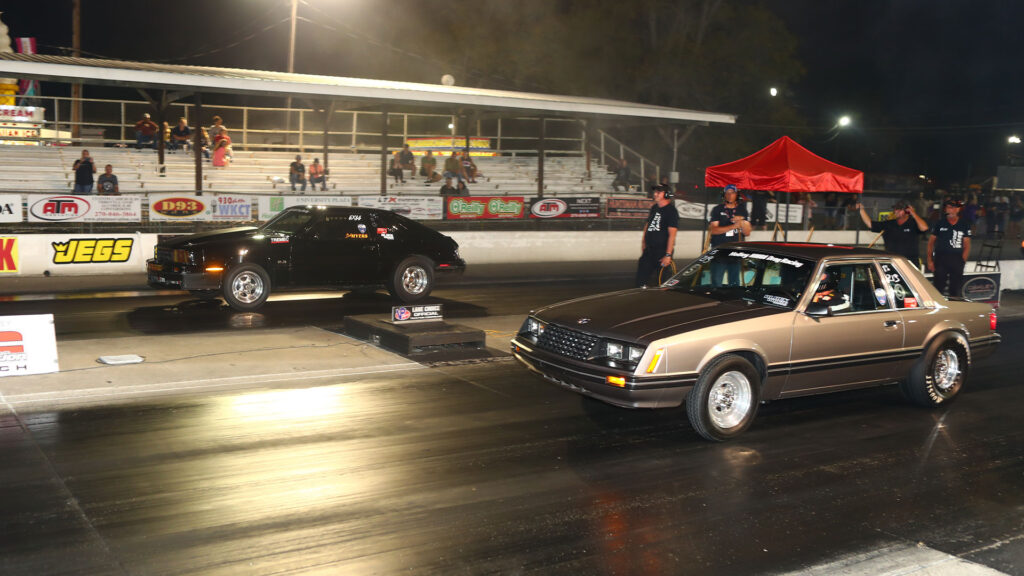 "I used to race turbo coupes and I got this Capri about 12 years ago," Bob told us. "I swapped my T-bird stuff into this car and ran 12s out of the gate. It's an original RS turbo "W" VIN, so it's a pretty rare car, with only about 1,300 built in 1984. I started going quicker, and around 2012, we ran a bunch of True Street competitions in the 12.0 class and the car has evolved since then."
Over time, he has refined the combination, taking it from 12s, to 11s, then 10s and ultimately mid-9s—with a best-ever pass of 9.62 at 140 mph. And, after previous attempts, he managed to win the TREMEC Stick Shift Shootout at the 2021 Holley NMRA World Finals & Holley Ford Festival at Beech Bend Raceway Park in Bowling Green, Kentucky, held from September 30-October 3.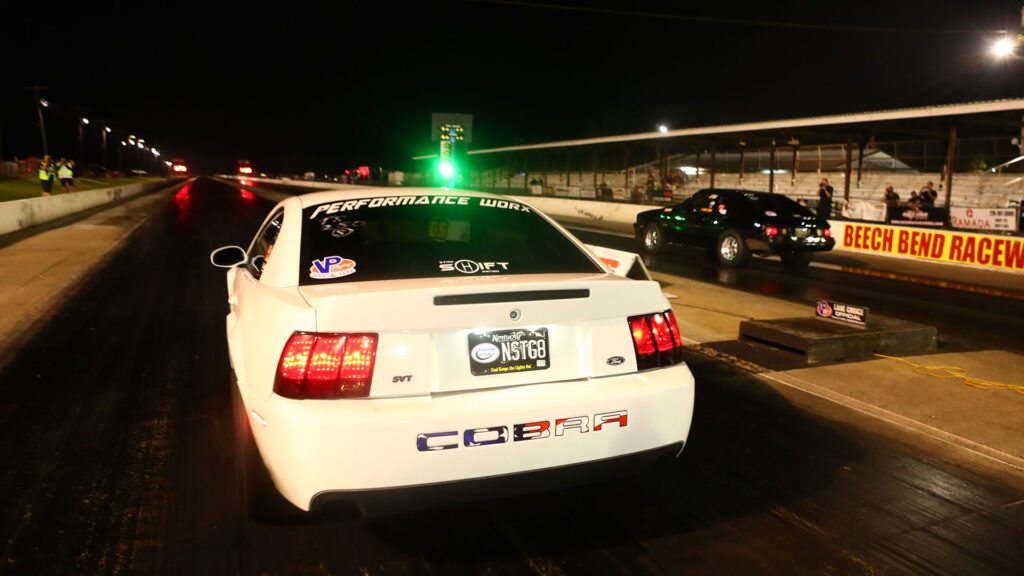 "I was so happy to win the TREMEC Stick Shift Shootout," said Bob, of Greensburg, Pennsylvania. "We only go to the NMRA events that feature the TREMEC Stick Shootout. We usually have the only four-cylinder car, so we try and put on a show. The weather was crazy in Bowling Green, so we only got two qualifying runs. This ended up being in my favor because on the second pass, I blew the tires off. My first pass was a 10.02 and I was going for the 10.00-class win, but on the second pass, I went 12.20 and had an 11.22 average. This gave me a big advantage in the Shootout."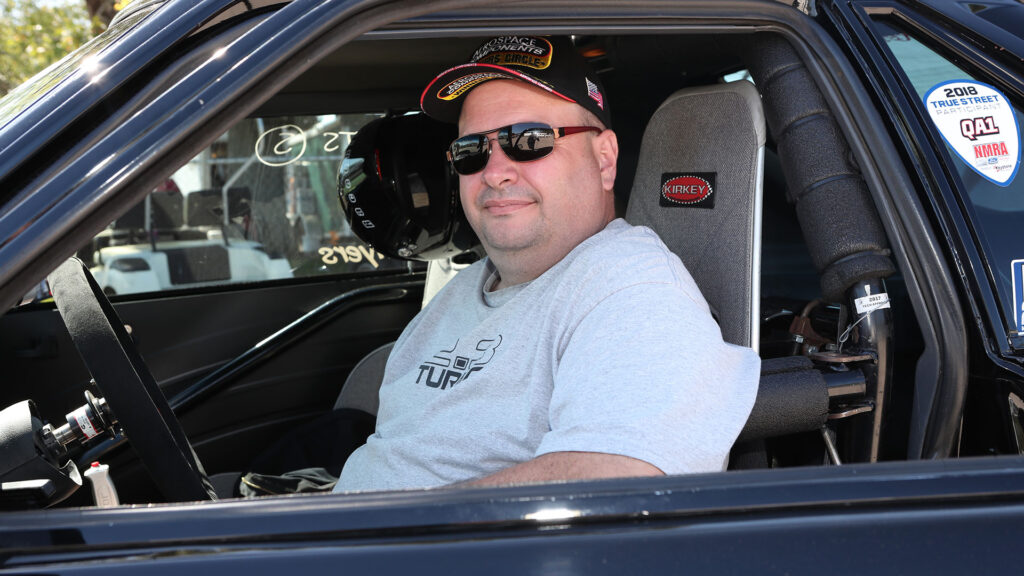 Bob went on to defeat Trevor Thorne and Jeff McCool before facing Andrew Lukanov in the final. With a 10.70 index, Lukanov launched first, but Bob passed Lukanov, clocking 10.11 at 137 mph. This was the quickest run and gave Bob his very first TREMEC Stick Shift Shootout victory.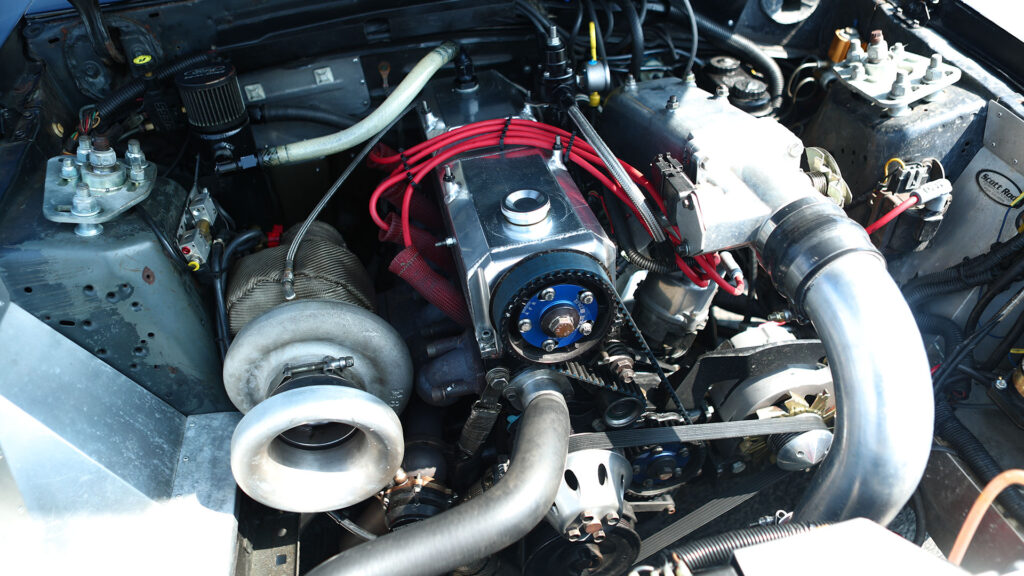 Bob's Capri is powered by a stock-block 2.3-liter four-banger with a stock crankshaft. It's beefed with Crower rods and CP-Carrillo forged pistons. The stock head was treated to big valves and was, as Bob said, "ported to within an inch of its life." It was also converted to use a BOPORT mechanical roller cam. Forced induction comes by way of a Borg-Warner S300SX-E single turbo that produces 40 psi of max boost. "I run a different tire for all-out racing, so I dial back the boost to 37 psi for True Street and it makes about 600 horsepower in this trim. I do that when the track gets pretty beat up during the True Street runs. When it hooks, it's good for mid-to-low 10s, and it will run 9s with the boost cranked up," Bob told us. The engine also benefits from a factory lower intake with a homebuilt plenum upper and MicroSquirt EFI, which is a standalone system.
Traction comes by way of a Team Z Motorsports front K-member with Viking Performance struts and a mix of UMI Performance rear uppers with UPR Products bearings and a set of Team Z lowers with QA1 shocks. Bob also uses Mickey Thompson ET Street R DOT-legal slicks for True Street on Weld wheels.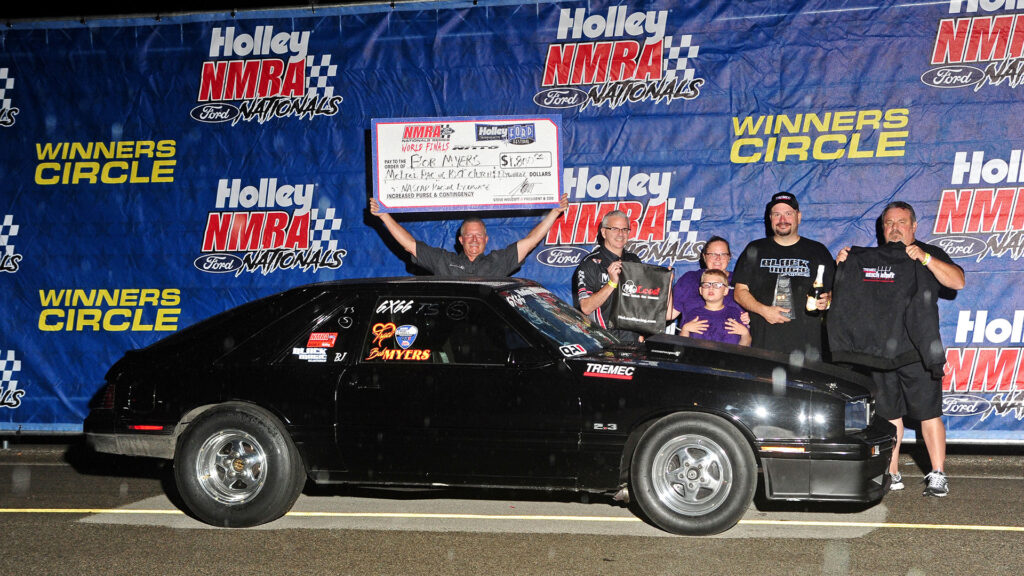 For his effort, Bob received a McLeod Racing RXT twin-disc clutch setup with flywheel and the opportunity to drive a NASCAR race car through the NASCAR Racing Experience.
"I have to thank TREMEC for putting on the Shootout and for making such great equipment for us," Bob said. "It was so great to win the final Shootout of the year, and I'm looking forward to attending more in 2022."