Traditional thinking is that the last vehicle you'd want to build for handling challenges and autocrosses was a vintage truck. Trucks are beasts of burden or off-road toys. Their roles don't involve going around corners at high speed, maneuvering a slalom course or feeling anything remotely like a sports car. But in 2019, we live in a very different world, and transforming a vintage truck into a pro touring stud is a great way to stand apart from all the Camaros, Mustangs and others common cars at these events.
That desire motivated John Backus to the Dodge D100 pickup that you see here. It's now equipped with a TREMEC Magnum 6-speed from our Elite Distributor Bowler Transmissions and has a modern suspension to give the old hauler a new – and better – lease on life.
1. When did you first get this TREMEC-equipped car/truck?
I bought the truck in 2013, but it was not equipped with a TREMEC at that time.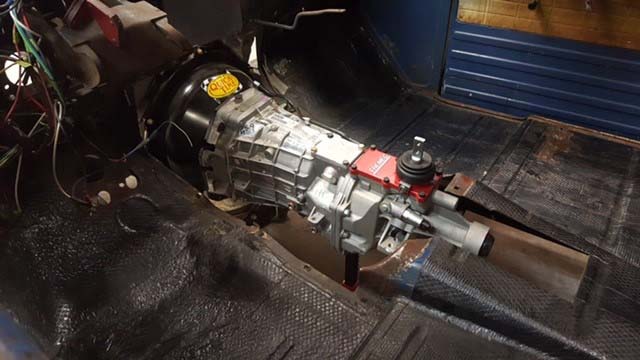 2. Where did you buy your TREMEC transmission?
I reached out to Bowler Transmissions and purchased it through them. The package is a standard Magnum 6-speed for an LS engine with Quick Time bellhousing and stock LS7 clutch. The hydraulic system is a custom "universal" kit that we designed, alongside a Tilton 6000-Series release bearing.
3. Why did you choose a TREMEC transmission?
I wanted a 6-speed that could handle the power I was going to be putting to it without worrying if it was going to hold up or not.
4. What do you like most about the TREMEC transmission you chose?
I like the fact that I can run a lower gear in the rear end so I can get off the line quicker and still have the higher gear in the transmission to be able to run down the highway.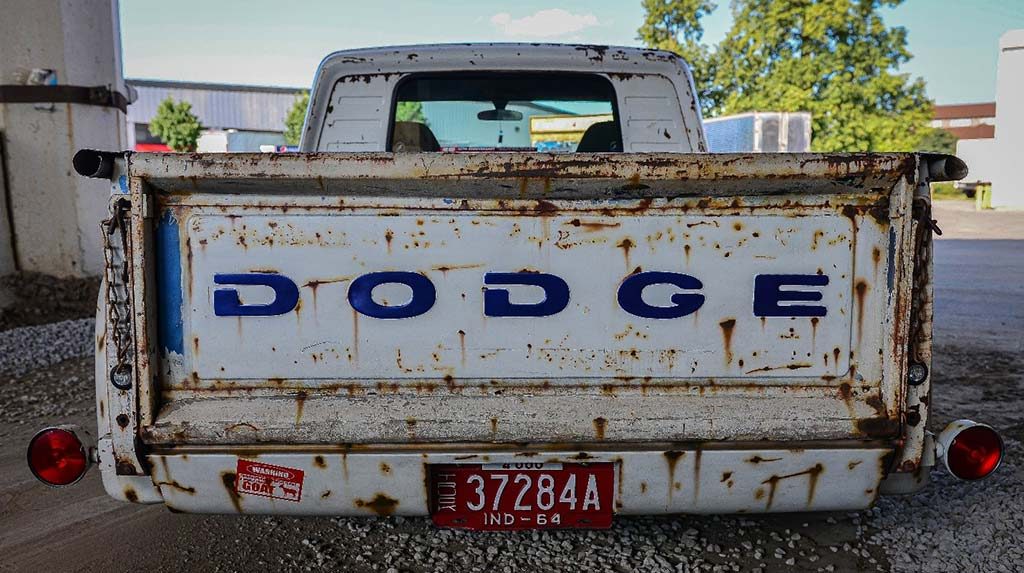 5. What does the TREMEC transmission allow you to do that you couldn't before?
It allows me to keep the truck in the engine's powerband range longer, where it makes the most power. Something I couldn't do with an automatic. That's important when running autocross.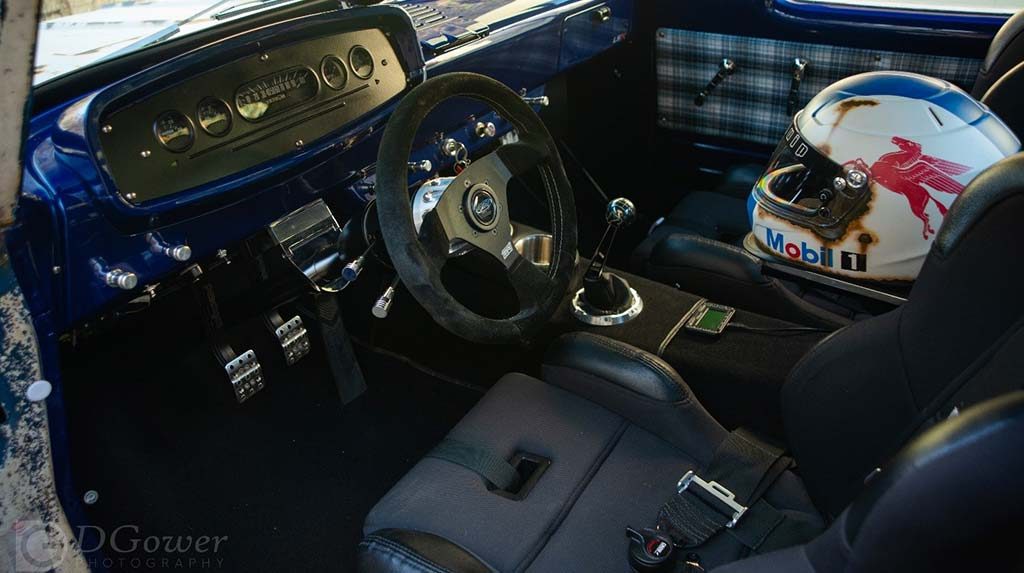 6. What other mods have you made to the vehicle?
I've totally redone the truck, from a complete custom frame to running RideTech StrongArms suspension and their ShockWave. This completely changed the truck's handling capabilities. For turning the truck, I installed a Turn One pump and a 10:1 steering box. I put in an LS for its reliability and power; it's nearly bulletproof. The rear end is a Moser Engineering Ford 9-inch with 3.90 Truetrac gears and 31-spline axles. To get the truck to stop, I installed Baer brakes on all four corners. I added American Racing VF495 forged wheels wrapped in BFGoodrich g-Force Rival S tires for the grip in cornering. Inside the cab, I installed a rollcage with Corbeau race seats, and to keep me secure in the seats are RaceQuip five-point harness belts.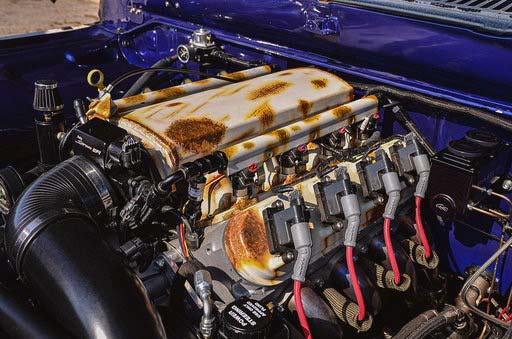 7. Tell us about the engine your TREMEC is bolted to.
The motor is a 6.0L LQ9 out of a 2006 Chevy Escalade with a stock bottom end. I changed the heads to 799 castings and had them ported and polished for better flow. I'm running all Holley goodies on the motor: Sniper intake, throttle body and fuel rails. I also have Holley's 1 7/8-inch BlackHeart stainless headers that sends the exhaust through two stainless Black Widow mufflers.
8. Tell us the story of this truck…single-owner, basket case, what have you done to the car, etc.
I found the truck in Nashville. My buddy and I went to see it for ourselves, with all intentions of buying it if it was in any kind of decent shape. It was different, you never seen them. I guess that's what drew me to it. Everyone's doing C10s, but I wanted something that stands out from the crowd. I was shocked how well the body and floors were. The only bad spot on the truck was the passenger-side rocker and that was it. The guy I bought it from had started to make a rat rod out of it and lost interest in the project. It had a 500ci Cadillac motor with a TH400 automatic. I couldn't tell you what the rear end was, but it was huge.
We drug it home and got started on it. I keep it as a rat rod for a couple years but always wanted to build an autocross truck. I did a lot of research and got in contact with the right people to help make my dream come true, and here we are. The wife told me if I was going to do it, I'd better do it now because I wasn't getting any younger. That's all she had to say. She probably wishes she didn't say that now. I tore the truck completely down to the ground and started over. It took a little over 2 years to complete, but I couldn't be more happy with how it turned out. I did all the work myself except for building the motor, and I had a good friend by the name of Randy Thacker build it for me; he's an LS guru. I airbrushed most of the patina on the truck. I wanted to keep the weathered look. I also did all the logos on the truck to make them look weathered. It's my pride and joy!
9. Is this the only TREMEC-equipped vehicle you own?
Yes, it's the first one.
10. What kind of driving do you enjoy with the vehicle, such as autocrossing, cross-country drives, drag racing, track days, etc.?
I love the cross-country drives, just the reactions and the questions I get from people. I also like taking it autocrossing. I want to get into it more competitions next year and just have a couple things I want to do before running all the time.
11. If you could give anyone considering a TREMEC transmission advice on making their choice, what would it be?
It's a no brainer. Nothing beats the power it can handle off the shelf. Plus, you have the ability to run a much lower gear in the rear. And with the 6-speed and its double-overdrive gears, you are still able to run down the highway at the end of the day.
12. What kind of modifications did you make to install your TREMEC transmission?
All I had to do was modify the transmission tunnel and move my transmission crossmember rearward in the truck.
13. What kind of shifter did you choose for your TREMEC?
I'm running a Bowler Transmissions billet shifter with their trim ring and leather boot.
14. Did you use the TREMEC gear selector app when you were figuring out what rear gear to choose for your vehicle?
No, I contacted Bowler and they worked me through it with the rearend gear ratio I was running.
15. Did you use the TREMEC driveline angle finder app for setting the drivetrain up?
Yes, I did. It's a great app for your phone. Very easy to use and helps get everything dialed in correctly.
16. What future mods/upgrades do you have planned for your truck?
I'd like to install an LSA blower on the motor for more power. And I'd like to switch over to RideTech's adjustable coilovers. This winter I'll be installing a Sweptline bed on the truck. It should change the looks of the truck all together. You can see more of the truck at @backer14 on Instagram, and if you need some stuff painted, check out my business @rustygoat14, also on Instagram. I specialize in helmets, patina and logos.